One of the most intriguing industries that has proven itself over time is the gaming industry. The ability to choose to be a superhero or a villain is one which humans love. All that adrenaline pumping and the fear of having to start all over if one loses a tournament. The excitement of the gaming industry cannot be over-emphasized.
As a kid, there were times I never went to school just because I wanted to round up the final stage of a certain game, I don't know about you, but even till now, many of us still have several games on our mobile phones or computers. Heck, smart televisions these days also come with arcade games.
Despite the excitement in the gaming industry, the cost of developing adrenaline popping games is climbing higher. Undeniably, we cannot deny the effect of the gaming industry in gambling. People have become millionaires overnight.
Although some countries or religious organizations have failed to recognize gambling as a legitimate way of earning a living, the gambling economy is still driven by passion and the unwavering zeal of gamblers.
Thousands of casinos still do not waver as they continue to build top quality brands that are reckoned with.  Some of these casinos spend so much in order to build their reputation. No casino wants to be recognized for failing to make payouts to winners as at when due.
Just as most gamblers hardly trust each other, it is also hard for them to trust the casinos as sometimes, the odds always seem to favour the house. But it's not only the players that suffer, the game developers also suffer the effects as they are only entitled to minute commissions from the revenue generated from their hard work.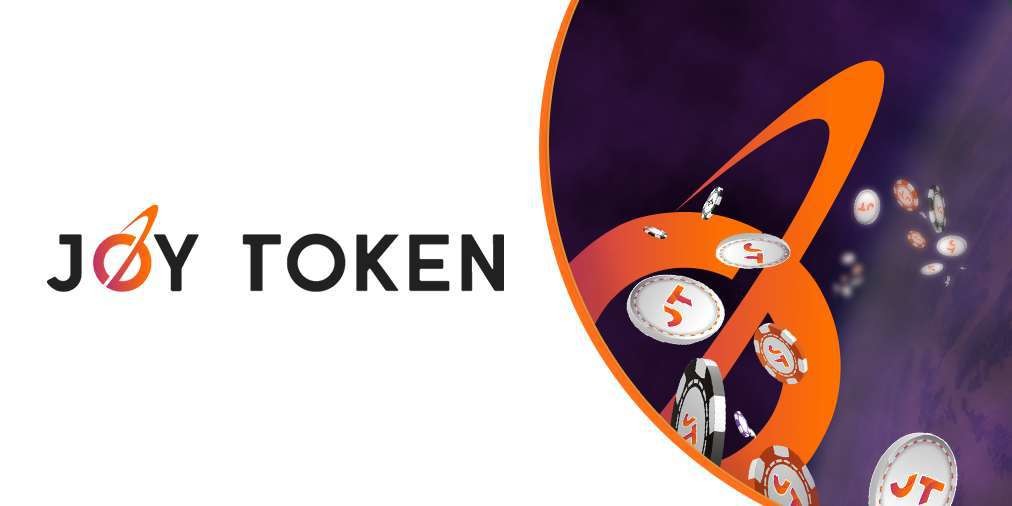 In order to help solve this challenge, JOY GAMING has proposed a 21st century decentralized solution that will favour every member of the gaming and gambling ecosystem.
What Is JOY GAMING's mission
Joy gaming will be building a platform based on the blockchain technology. Through this platform, it will be possible for game developers to create new gaming projects that will work on their backend through the use of smart contracts.
Who Will Benefit From JOY Gaming's Plan?
JOY Gaming will be beneficial to various members of the industry, some of which include
Game Players
Gamblers
Major Casinos,
Game Developers,
Software houses, e.t.c
How Will Joy Gaming's Platform Work?
The technology that houses the platform will be working based on 3 major high end components. These components include:
The Random Generator (RNG)
The Game Applications
The Blockchain Layer
These 3 components will make it possible for users to communicate with the platform without any fear of security breaches or unresponsiveness. The system will also be 100% complaint with existing legal authorities and licensing.
How Will JOY TOKEN WORK?
The platform will be pretty much user friendly in order to work perfectly for all clients, developers, the blockchain technology, gaming contents, and so much more.
Please see the graphical representation below for a better understanding.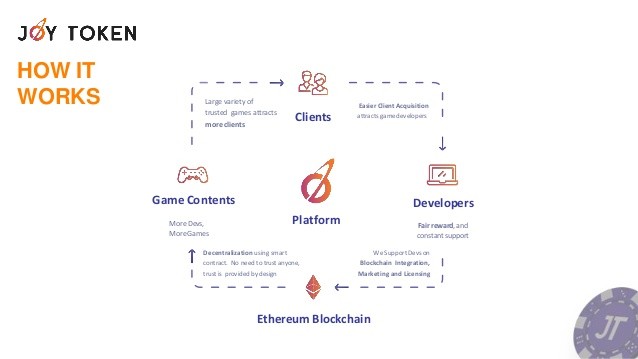 JOY TOKEN INFORMATION AND SALE
In order to guarantee a flawless integration and swift transactions on the JOY TOKEN platform, the team decided to adopt a token referred to as JOY. It is an ERC 20  standard Ethereum based token that is already in the process of being upgraded to the ERC 223 token standard.
The token will be used to make purchases, give incentives, bonuses and rewards on the JOY platform. Accepted currencies on the platform at the moment are Ethereum, BTC and wire transfers.
How Generated Funds Will Be Used
TOKEN DISTRIBUTION
According to the information on the whitepaper, the token distribution will be as follows:
A total of 20% will be assigned to – Pre-sale- 140 000 000
A total of 30% will be assigned to – Sold during ICO- 210 000 000
A total of 10% will be assigned to – Rewards pool (VIP etc) – 70 000 000
A total of  23% will be – Sold on the platform- 161 000 000
A total of 12%will be assigned to – Founding team, vested for 24 months- 84 000 000
3% will be reserved for – Ambassadors fund raising fees- 21 000 000
2% will be used for – ICO bounties- 14 000 000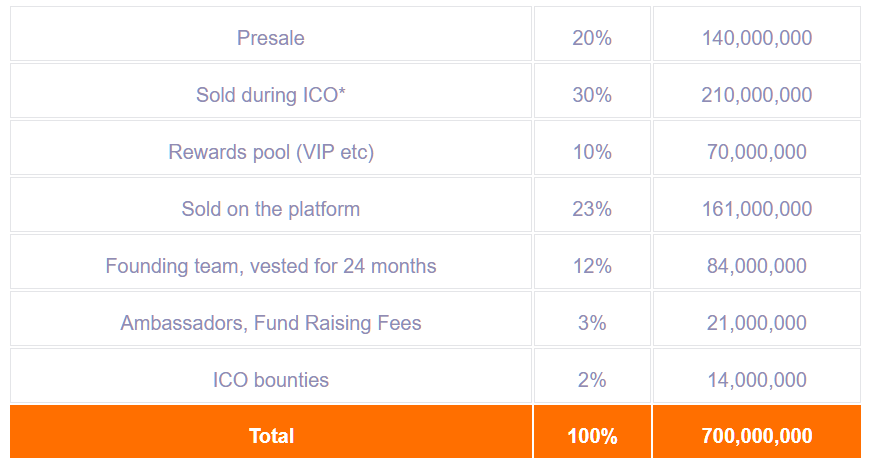 JOYTOKEN's ROADMAP
Below is the official roadmap that highlights the journey so far, and what we should expect in the future.
JUNE 2017
OP: 500,000 Seed Funding
OCTOBER 2017
OP: Onboard advisors from industry and blockchain
NOVEMBER 2017
OP: Joy Gaming Foundation Established
OUT: Speaking At BlockChain Expo
DECEMBER 2017
TECH: Demo Slot Machine using Smart Contracts
OP: Application for Gambling Developer License
TECH: Launch of Joy Gaming Platform for Developers
TECH: Code Audit
MARCH 2017
OP: Token Sale
APRIL 2018
OP: Token Sale Audit
JUNE 2018
TECH: Games live on Playcosmo
AUGUST 2018
TECH: Expansion into Fixed Odds Table Games
OP: Integration to More Platforms & Direct Operators
THE JOY TOKEN TEAM
In conclusion, I really think it's time we come together to support these developers, and work towards a vibrant gaming and gambling ecosystem. If you'll like to invest now, or if you'll like to read more information about this opportunity, please follow any of the links below:
WEBSITE: https://joytoken.io/
WHITEPAPER: https://joytoken.io/white-paper.html
TELEGRAM: https://t.me/joytoken
TWITTER: https://twitter.com/JoyToken
FACEBOOK: https://www.facebook.com/JoyToken.io/
This content was authored by bitcointalk user: Vocalwalls
Bitcointalk Profile Url: https://bitcointalk.org/index.php?action=profile;u=1825008
wallet address: 0x4e643A7C0E494dd7463B5F10b7Bc5F7f8BA702CD